When you make a call with the Samsung Galaxy S9, the display automatically turns off when you lead the device to the ear. The proximity sensor is used here. This turns off the screen when something is directly in front of it.
Now it can happen to you however that after a call the screen remains dark anyway. This can have several causes. In very few cases the proximity sensor of the Samsung Galaxy S9 is defective.
Tips if the screen of the Samsung Galaxy S9 simply remains black after a call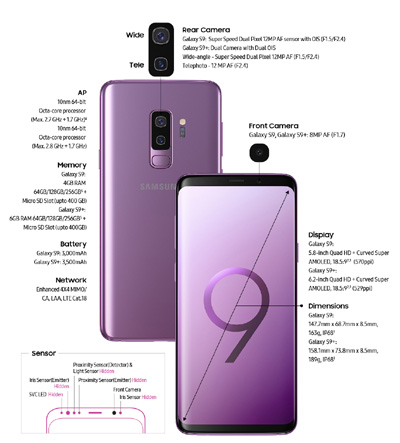 1: Proximity sensor conceals
One of the most common variants of why a proximity sensor is concealed are the following:
Through make-up
Through protruding protective screen film
Through protective case
The proximity sensor is located at the top left of the earpiece of the smartphone
Tip 2: Test the function of the proximity sensor
You should always check whether the proximity sensor is defective. The easiest way to do this is via the Samsung Service Menu:
Open the Secret Service Menu
The Samsung Service Menu now opens. Select "Sensor" here. In this menu only the most necessary drivers for the sensors are loaded, which means that a software error can now be excluded with this test.
You must now take a look at the data in "Proximity Sensor". Proximity should be set to 0.0. Now hold your hand over the proximity sensor to the left of the ear cup.
The Proximity entry should now jump to 1.0. If this is the case, your proximity sensor works without problems. If not, there may be a hardware defect.
Tip 3: Perform Wipe Cache Partition
If it turns out from Tip 2 that the sensor works correctly, we recommend that you finally perform a Wipe Cache Partition for the Samsung Galaxy S9. No data is lost. We have summarized more about this for you in the following article:
Wipe Cache Partition solves software problems such as a black display after a call
We hope that one of the three tips solved the problem and that the display can be activated again as usual after a call.