The Samsung Galaxy S9 has the possibility to get more memory capacity with a Micro SD memory card. This is useful, especially if you would like to have all your pictures, photos, videos, Netflix series etc. with you.
For this reason, the internal memory is often insufficient. Here it makes sense to store the data from the internal memory on the Micro SD memory card. If you haven't had a Samsung or Android device before, we'll show you how to move the data here. This works directly with the pre-installed apps.
Samsung Galaxy S9 Data transfer to memory card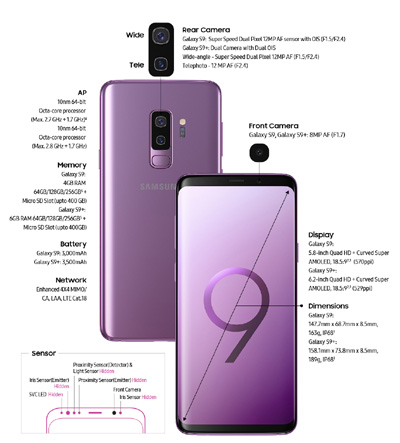 1. Please open the app menu and then the app "My Documents" from the start screen. (This is usually located in the "Samsung" folder)
2. Open the directory that you would like to transfer to the Micro SD memory card. For example, here we take the camera images folder, which contains photos and videos. These usually make up a large proportion of the occupied memory.
Your pictures and videos are under: Internal Storage/camera/DCIM
3. Hold your finger on the "Camera" folder until it is highlighted
4. Tap on the symbol with the three dots in the upper right corner and then on "Move"
5. In the window switch to" "SD Card" as storage location
6. You can now create a new folder or press "Done" on the upper right to move the complete directory to the root folder of the memory card.
Depending on how many images and videos are stored in the internal device memory in the "Camera" folder, the copy operation will now continue for each folder or file stored in the internal memory of the Samsung Galaxy S9.
This allows you to gradually free up the faster internal memory, but still have your data with you.