The Sim card is required on the Huawei Mate 20 Pro to use the telephone and Internet functions. To help you get started directly with the Huawei Mate 20 Pro when you receive it, we'll tell you here which Sim Card format is used:
The Huawei Mate 20 Pro uses the type "Nano Sim Card".
This is the smallest Sim card format currently available on the market and is used in all new models. However, if you change from a model older than 3 years, you probably still own a standard or micro sim card.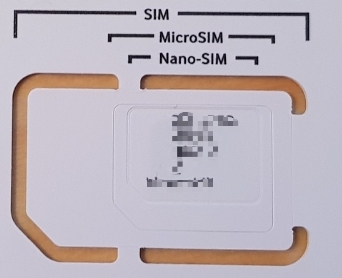 These Sim cards are no longer compatible with the Huawei Mate 20 Pro, so you will need a Nano Sim card. You now have the following options to obtain such a card for the Huawei Mate 20 Pro:
1st Sim cards punching machine
With a Sim card punch and the matching template you can easily create a Nano Sim card from an existing standard or Micro Sim card.
Sim cards punch on Amazon
2nd Sim cards perforation - Multi-Sim
Many Sim cards have been produced in the form of a Multi-Sim. This means that you can easily push a Nano Sim card out of a standard or Micro Sim card. You only have to push out the nano card along the perforation.
3. Request online via Service Center
Another alternative is to request the Sim card online from the respective mobile phone service provider. Often this is however connected with costs in the range of 10 - 25€. More information is usually available from the Online Service Center of your own mobile phone provider.
Now you know which Sim card model you need for the Huawei Mate 20 Pro and what to do if you don't have this format yet.